Firstly, I would just like to say that this blog has hit 200 posts! This is a huge thing for me, because I feel like I'm not posting enough anymore… So, thanks to everyone reading this, because without you, there would be no reason to post anymore! On with the post…
Waiting On Wednesday is a weekly event, hosted at Breaking The Spine (check her out!) , that spotlights upcoming releases that I'm eagerly anticipating.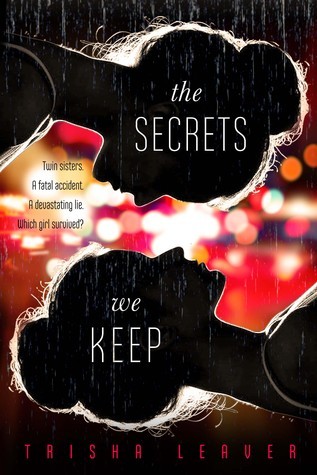 Today's book is The Secrets We Keep by Trisha Leaver:
Publication Date: 28th April 2015 by Farrar, Straus and Giroux
Summary: Ella and Maddy Lawton are identical twins. Ella has spent her high school years living in popular Maddy's shadows, but she has never been envious of Maddy. In fact, she's chosen the quiet, safe confines of her sketchbook over the constant battle for attention that defines Maddy's world.
When—after a heated argument—Maddy and Ella get into a tragic accident that leaves her sister dead, Ella wakes up in the hospital surrounded by loved ones who believe she is Maddy. Feeling responsible for Maddy's death and everyone's grief, Ella makes a split-second decision to pretend to be Maddy. Soon, Ella realizes that Maddy's life was full of secrets. Caught in a web of lies, Ella is faced with two options—confess her deception or live her sister's life.
How stunning does this book sound? The synopsis sounds perfect for this reading mood I'm in currently…  And very mysterious too.
Identical twins? Always a bonus for me, I love reading about twins…
Secrets and lies? Yes please.
Hiding Identities? I think this book is perfect.
I can't wait to get my hands on this book… The cover is gorgeous with a capital G as well… Someone just hand me the book now.