Waiting On Wednesday is a weekly event, hosted at Breaking The Spine (check her out!) , that spotlights upcoming releases that I'm eagerly anticipating.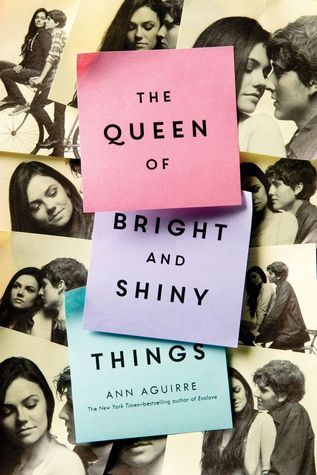 Today's book is The Queen of Bright And Shiny Things by Ann Aguirre:
Publication Date: April 7th 2015 by Feiwel & Friends
Summary: Sage Czinski is trying really hard to be perfect. If she manages it, people won't peer beyond the surface, or ask hard questions about her past. She's learnt to substitute causes for relationships, and it's working just fine…
Until Shane Cavendish strolls into her math class. He's a little antisocial, a lot beautiful, and everything she never knew she always wanted.
Shane Cavendish just wants to be left alone to play guitar and work on his music. He's got heartache and loneliness in his rearview mirror, and this new school represents his last chance. He doesn't expect to be happy; he only wants to graduate and move on. He never counted on a girl like Sage.
But love doesn't mend all broken things, and sometimes life has to fall apart before it can be put back together again…
This has a LOT of good rating already on Goodreads which drew my eye to it. Actually, I think the cover drew me in but altogether, this is already looking out to be a very good book. The cover is gorgeous but the storyline sounds amazing. Cliche but unique. That's two things I never expected to be in the same sentence. And I'm definitely in the need for a contemporary/romance book and this seems to fit the spot. Can't wait to get my hands on this one….