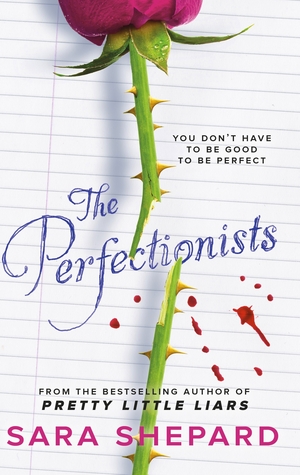 Today's book is The Perfectionists:
Author: Sara Shepard
Publisher: Hot Key Books
Rating: 2 out of 5 stars
Summary: In Beacon Heights High, Nolan Hotchkiss is king. His charm, wealth and good looks are deceptively seductive, and many are the students whose lives and reputations have been ruined by it. All while Nolan continues to reign, unquestioned and undisrupted. Until now, that is.
Mackenzie, Ava, Julie, Caitlin and Parker seemingly don't have much in common. Each has their own friends, dramas and goals. But one thing they do share: they all have a deep hatred of Nolan Hotchkiss. And they all think it's about time he paid for what he's done. They come up with the perfect murder – a hypothetical murder, of course. It's all wishful thinking … until they wake up one morning to find that their wish has come true. Nolan has been killed – in exactly the way they planned. The thing is, they didn't do it. So who did?
Upon starting this book, I loved it. After my WOW about this book, https://abookandbeyond.wordpress.com/2(014/09/03/waiting-on-wednesday-10/) I immediately bought it assuming that the beautiful cover and gripping synopsis would mean bucketfuls of mystery and overall greatness. But it failed, first of all, I'd assumed that it would be a standalone, but it's now a series and if it becomes like Pretty Little Liars – I won't have enough money to fund the whole thing and it will be so repetitive. Through the middle of this book, I suspected that the mystery wouldn't be fully revealed and I was right. The end was rubbish. No major cliffhanger nor a resolved ending. Just a simple ending which will probably tie into the start of the next book. ]
To be honest, I won't recommend this book unless you're one of the people ready to fund their lifetime savings into what will feel like 100 books to see a repetitive storyline never be solved.