Today's book is City of Glass: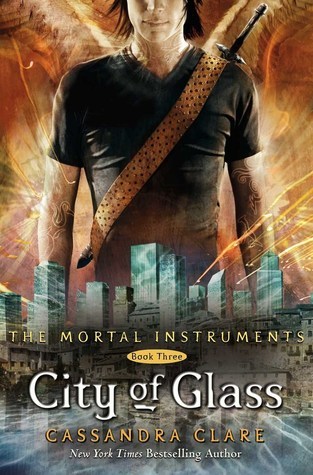 Series: #3 in the Mortal Instruments Series
Author: Cassandra Clare
Publisher: Walker Books
Rating: 4 out of 5 stars
Summary: Amid the chaos of war, the Shadowhunters must decide to fight with the vampire, werewolves and other Downworlders – or against them. Meanwhile, Jace and Clary have their own decision to make: should they pursue the love they know is forbidden?
Well, I am shocked myself to say that I hadn't read this book before now. I'm still edging my way page by page through the stories and loving them. This book has to be the best so far, but that's because how plot-twisty and action-packed this book is. AND IT'S IN IDRIS.
The book was well paced and I loved all the different twists and things. Also, the cover is gorgeous. However, I did find myself drawing many family trees to work out who each character actually was now… 🙂
Jace's quotes are the best and a lot of them have found themselves featuring on my cork board…
Overall, an action-packed book which will keep you on the edge of your seat until the end, twisting and turning your brain around and around with the possibilities of being a Shadowhunter in real life. (That's how realistic it was.)