Waiting On Wednesday is a weekly event, hosted at Breaking The Spine (check her out!) , that spotlights upcoming releases that I'm eagerly anticipating.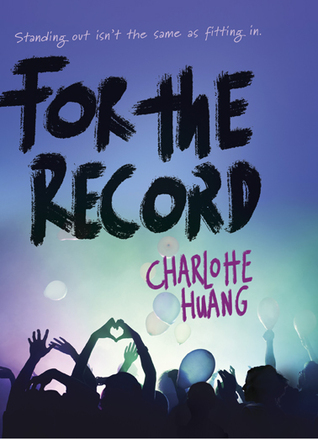 Today's book is For The Record by Charlotte Huang:
Publication Date: 10th November 2015 by Delacorte Books
Summary: Chelsea thought she knew what being a rock star was like… until she became one.
After losing a TV talent show, she slid back into small-town anonymity. But one phone call changed everything…
Now she's the lead singer of the band Melbourne, performing in sold-out clubs every night and living on a bus with three gorgeous and talented guys. The bummer is that the band barely tolerates her.
And when teen heartthrob Lucas Rivers takes an interest, Chelsea is suddenly famous, bringing Melbourne to the next level – not that they aren't all happy about that. Her feelings for Beckett, Melbourne's bassist, are making life even more complicated.
Chelsea only has the summer tour to make the band—and their fans—love her. If she doesn't, she'll be back in Michigan for senior year, dying a slow death. The paparazzi, the haters, the gruelling schedule . . . Chelsea believed she could handle it. But what if she can't?
WHOO! Someone catch me, because that cover is gorgeous! Only thing bad about this book is the release date. A book about being in a band? Hasn't everyone at some point (whether they can sing or not) wanted to be famous in a band? And this book just sounds amazing. Music, a band named after an Australian city, and boys. SOMEONE HAND ME THIS BOOK RIGHT NOW.