Waiting On Wednesday is a weekly event, hosted at Breaking The Spine (check her out!) , that spotlights upcoming releases that I'm eagerly anticipating.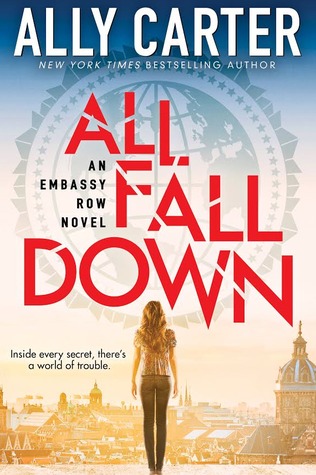 Today's book is All Fall Down by Ally Carter:
Series: 1st in the Embassy Row Series
Publication Date: January 27th 2015 by Scholastic
Summary: Grace can best be described as a daredevil, an Army brat, and a rebel. She is also the only granddaughter of perhaps the most powerful ambassador in the world and Grace has spent every summer of her childhood running across the roofs of Embassy Row.
Now, at age sixteen, she's come back to stay – in order to solve the mystery of her mother's death. In the process, she uncovers an international conspiracy of unsettling proportions, and must choose her friends and watch her foes carefully if she and the world are to be saved.
Oooh… Doesn't this sound mysterious and action-packed? I love Ally Carter's other books and so I'm almost certain that this one won't disappoint… The cover looks amazing and professional and I can't wait to get my hands on this book…
So what do you think of All Fall Down? Yay or nay? Let me know in the comments below…