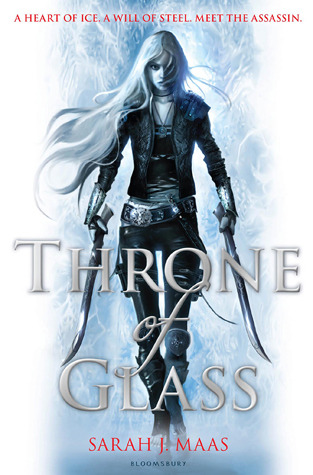 Today's review is of Throne of Glass:
Author: Sarah J. Maas
Publisher: Bloomsbury Books
Rating: 5 out of 5 stars
Summary:

Meet Celaena Sardothien.
Beautiful. Deadly.
Destined for greatness.
In the dark, filthy salt mines of Endovier, an eighteen-year-old girl is serving a life sentence. She is a trained assassin, the best of her kind, but she made a fatal mistake: she got caught.
Young Captain Westfall offers her a deal: her freedom in return for one huge sacrifice. Celaena must represent the prince in a to-the-death tournament—fighting the most gifted thieves and assassins in the land. Live or die, Celaena will be free. Win or lose, she is about to discover her true destiny. But will her assassin's heart be melted?
Now I see the big deal around this series, everyone has been raving about it and for good reason. The story was astoundingly good, and I read it as soon as I had bought it. I was on a day trip in London and my family stopped off at Foyles. I bought this and all the way home I read it and finished it. This says something because I normally can't read books in a car unless they distract me from the fact that I'm moving, so I guess this did as I was fine… The writing style was perfect for me and drew me in the whole way through. I couldn't guess who the evil person was until closely before they were revealed. Also, Celaena is a kick-ass protagonist, which I loved, I needed another dose of good characters.
One question for you readers who've read this: Dorian or Chaol?
Let me know what you thought in the comments below…