Waiting On Wednesday is a weekly event, hosted at Breaking The Spine (check her out!) , that spotlights upcoming releases that I'm eagerly anticipating.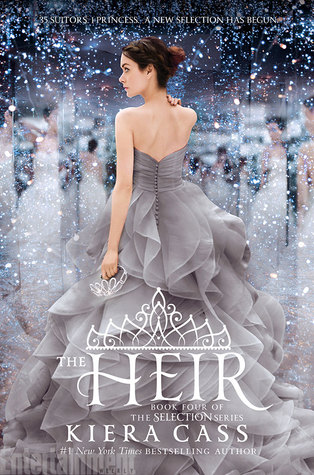 Today's book is The Heir by Kiera Cass:
Publication Date: 5th May 2015 by Harper Teen
Summary: Twenty years ago, America Singer entered the Selection and won Prince Maxon's heart. Now the time has come for Princess Eadlyn to hold a Selection of her own. Eadlyn doesn't expect her Selection to be anything like her parents' fairy-tale love story. But as the competition begins, she may discover that finding her own happily ever after isn't as impossible as she always thought.
I may or may not have completely melted down when news of this book released. ANOTHER BOOK IN THE SELECTION SERIES. Whilst I may be completely fangirling right now, I have good reason to. I adored the Selection series and loved all of the books within. To then find out that: (SPOILER in italics)
After America and Maxon marry, they have twins. Their daughter Eadlyn is born seven minutes before her twin brother: Ahren. Before, the rules would have implied that Ahren still became King but America and Maxon changed everything. Eadlyn now gets a Selection of men.
For anyone looking for the first few lines of the book: http://www.kieracass.com/journal/2014/12/23/opening-lines-of-the-heir.html
I am just soooo excited for this book. Rejoice in Kiera Cass' amazing decisions to write more books. And there will be at least two of these books. MY WORLD HAS ENDED BY THIS POINT.
So, what do you think about the Heir? Yay or Nay? Let me know in the comments below.