Waiting On Wednesday is a weekly event, hosted at Breaking The Spine (check her out!) , that spotlights upcoming releases that I'm eagerly anticipating.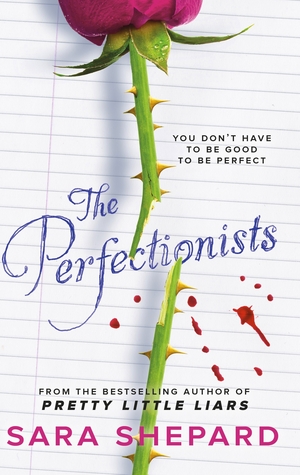 Today's book is The Perfectionists by Sara Shepard.
Publication Date: October 2nd by Hot Key Books
Summary: In Beacon Heights High, Nolan Hotchkiss is king. His charm, wealth and good looks are deceptively seductive, and many are the students whose lives and reputations have been ruined by it. All while Nolan continues to reign, unquestioned and undisrupted. Until now, that is.
Mackenzie, Ava, Julie, Caitlin and Parker seemingly don't have much in common. Each has their own friends, dramas and goals. But one thing they do share: they all have a deep hatred of Nolan Hotchkiss. And they all think it's about time he paid for what he's done. They come up with the perfect murder – a hypothetical murder, of course. It's all wishful thinking … until they wake up one morning to find that their wish has come true. Nolan has been killed – in exactly the way they planned. The thing is, they didn't do it. So who did?
Firstly, Oh My Word! This book looks amazing, the cover is soooo beautiful that I want it RIGHT NOW…  Then we get onto this synopsis and I'm literally squealing currently… How mysterious does this sound? I can't wait to get my hands on this book ASAP… And, it's by Sara Shepard, who wrote Pretty Little Liars and hello, have you been living under a rock? PLL is so popular, especially the TV show!!
What do you think about this book? The synopsis or the cover? Let me know in the comments below…. (Ooh, I can rhyme and I never knew it…)